Oakland, Berkeley, Piedmont 
& City of Alameda Real Estate
Autumn markets in counties around the Bay Area have seen significant shifts, but with wide variance in the magnitude of these changes between areas. So far, the market centered on Oakland and Berkeley has probably seen the least dramatic changes in supply and demand dynamics. A major factor has to be that Alameda County, even after all the home price appreciation of recent years, generally speaking remains distinctly more affordable than San Francisco, San Mateo and Santa Clara Counties. 
However, the fact that other regions are seeing considerable shifts to cooler markets - at least over the past few months - may signify further adjustments to come in the East Bay as well. Time will tell: Short-term fluctuations are not uncommon and need to be substantiated over the longer term. Many standard statistics are lagging indicators and take time to reflect changes on the ground. They will bear watching in coming months.

Median Price Trends since 1996
This first series of 4 charts reflects trends in seasonally adjusted, smoothed, estimated fair market prices. They are not based on MLS sales data and may vary - generally to some small degree - from MLS calculations. Typically, the trend lines are very similar. At the end of this report is another series of graphs looking at median dollar per square foot values. How median values apply to any particular home is impossible to say without a tailored comparative market analysis.
Median sales prices are still higher on a year-over-year basis, but appreciation rates appear to be slowing virtually everywhere. In many markets, prices are ticking down from peaks hit last spring.

Year-over-Year Comparisons:
Median Sales Prices, per MLS
House Price Appreciation in 

3 Major East Bay Markets
Median Values for
 Alameda County 2-4 Unit Buildings
Oakland, in particular, has a large market in multi-unit residential property sales.
Supply & Demand Statistics
Other counties around the Bay Area have recently seen some really big changes in supply and demand dynamics, with inventory jumping, sales declining, and other market-heat indicators distinctly cooling - Santa Clara and Sonoma Counties most of all. Generally speaking, these changes have not showed up - or not showed up to comparable magnitudes - in our market area. However, no single market area is an island in the overall Bay Area metro area: If markets continue to soften beyond the short-term everyplace else, then presumably we can expect more changes to show up here.
In the greater Oakland-Berkeley market, inventory levels of active listings have remained relatively unchanged from earlier years.
For the Bay Area as a whole, home sales suddenly plunged 18% year-over-year in September 2018. In Oakland-Berkeley, they dropped 13% in September, but then rebounded in October to about the same count as in 2017 and well above October 2016..

The average sales price to original list price percentage - one measure of competition between buyers and of overbidding - has dropped from this past spring, as is typical, but remains incredibly high by historical standards: An average of about 12% over asking price in September and October. 
Remember that sales in one month mostly reflect the market in the previous one, when the offers were negotiated on the listings that closed sale. If more price reductions are occurring - see chart further below - then they would lower this metric in the future.
Thus far, those listings selling this autumn have generally sold relatively quickly. But this statistic is a lagging indicator and won't reflect properties that have not yet sold, perhaps after necessary price reductions. 

Historical, comparative data on price reductions is available on a county-wide basis. In Alameda County, the number of price reductions soared to its highest in at least 6 years. However, some nearby counties have been absolutely hammered by price reductions this autumn: A few, such as Santa Clara and Sonoma, saw staggering year-over-year increases over 350% (though 2018 to 2016 comparisons were not as dramatic). 
This is an important indicator of changing market conditions, as it signals a growing disconnect between buyer and seller expectations, and will certainly bear watching in coming months.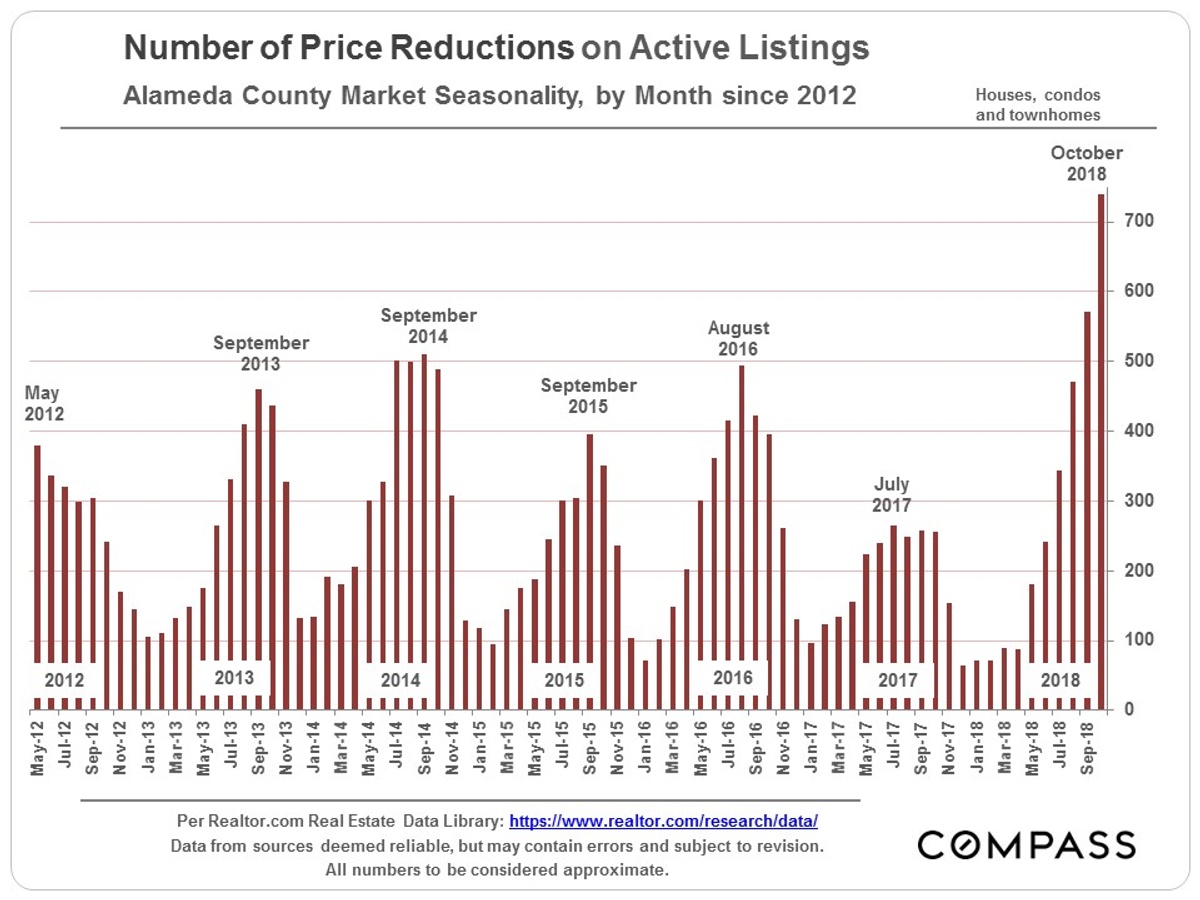 Another critical indicator of a market shifting to another, cooler phase is an increase in the number of listings that expire and withdrawn from the market without selling. Again, such listings are surging in some nearby counties, but the increase so far in our market is relatively negligible. We will see if there are substantial increases in November and December of homes that sellers have not been able to sell at the prices they currently consider acceptable.
The number of sales of expensive homes selling for $1,500,000+ in August-October 2018 was up 18% from the same period in 2017 - though well below spring sales volumes, when the market was particularly feverish. (Spring is typically the biggest season for luxury home sales.) Interestingly, around the Bay Area, the luxury home market has generally proven more resilient to softening this autumn than the overall market.
Median Dollar per Square Foot 
Values since 1996
In this first chart below, we have also broken out two areas of Oakland to highlight how cities almost always contain neighborhoods of widely varying values.
Piedmont has the highest median prices and dollar per square foot values of any city in the East Bay. (The median price chart is at the beginning of this report.)
© Compass 2018 ¦ All Rights Reserved by Compass ¦ Made in NYC
Compass is a licensed real estate broker (01991628) in the State of California and abides by Equal Housing Opportunity laws. All material presented herein is intended for informational purposes only. Information is compiled from sources deemed reliable but is subject to errors, omissions, changes in price, condition, sale, or withdraw without notice. No statement is made as to accuracy of any description. All measurements and square footages are approximate. Exact dimensions can be obtained by retaining the services of an architect or engineer. This is not intended to solicit property already listed